As-salaamu `alaykum wa rahmatullaah
The Haafidh of Qur'aan is the best of people
If Allaah `azza wa jall gave every servant a value and a rank, then the people of Qur'aan are the best of people in rank, for the Prophet (sallallaahu `alayhi wa sallam) said, as is narrated in Bukhari – "The best of you is the one who learns Qur'aan and teaches it."
Tranquility descends upon the people of Qur'aan and mercy envelopes them
The Messenger (sallallaahu `alayhi wa sallam) said, "No people gather together in one of the Houses of Allaah, reciting the Book of Allaah and studying it among themselves, except that Sakeenah (Tranquility) descends upon them, and Mercy envelops them, and the angels surround them, and Allaah mentions them amongst those who are with Him." [1]
The Qur'aan is the Banquet of Allaah `azza wa jall
It is narrated from Ibn mas'ood (radhillaahu `anhu) that the Prophet (sallallaahu `alayhi wa sallam) said, "Indeed this Qur'aan is the banquet of Allaah so learn as much as you can from the banquet of Allaah. Indeed this Qur'aan is the strong rope of Allaah and it is the clear guidance and it is a beautiful cure, a protection for those who cling to it and a salvation for those who follow it. Nothing is bent or corrupted except that the Qur'aan rectifies it, nor deviated but that it reprimands them. Its marvels do not fade nor is the sweetness of it decreased by the frequency of those who recite it. So recite it, for indeed Allaah will bestow upon you ten times the single reward for your recitation of each letter. I do not say for Alif, Laam, Meem is a letter but Alif is a letter, Laam is a letter and Meem is a letter." [2]
The Qur'aan is your soul amongst the people of the heavens
It is narrated from Abu Sa'eed al-Khudri (radhiallaahu `anhu) that he said, "Have taqwa of Allaah because it is the head of all matters and upon you is Jihaad because it is the monasticism of Islaam and upon you is the remembrance of Allaah and the recitation of Qur'aan as it is your soul amongst the people of the heavens and your mention amongst the people of the earth, and upon you is to remain silent except in the truth as you will then over power the Shaytaan." [3]
Narrated from Jundub that he said, "I advice you with the taqwa of Allaah and I advice you with the Qur'aan for truly it is a light by the dark night and a guidance by the day – act upon it in difficulty and in poverty. If a calamity befalls, sacrifice your wealth instead of your Deen (religion) and if the calamity intensifies, then sacrifice your wealth and your life instead of your Deen for surely the ruined one is he whose religion is ruined and the deprived is he who has been deprived of his Deen. Know that there is no poverty after entering Paradise and no prosperity after entering Hellfire." [4]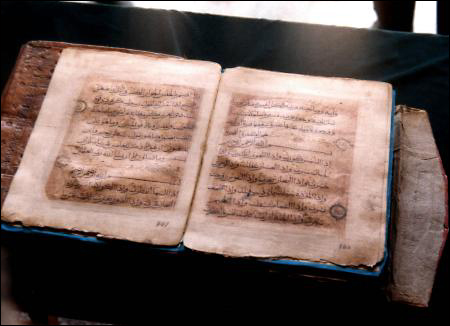 The recitor of Qur'aan is not returned to senile old age
Narrated from Ibn 'Abbaas (radhiallaahu `anhumaa): "Whoever reads the Qur'aan is not returned to senile old age and that is the meaning of Allaah's Statement, "Then We reduced him to the lowest of the low, except those who believe…" – he said 'those that recite the Qur'aan" [5]
The Haafidh of Qur'aan is lowered into his grave before others
Just like Allaah `azza wa jall raised the value of the bearer of Qur'aan in this world and made him the most deserving of leadership amongst the people, He has also raised his rank and value in the Hereafter by making him the most deserving of entering his grave first.
Narrated from Jabir ibn 'Abdullaah (radhiallaahu `anhumaa): The Prophet (sallallaahu `alayhi wa sallam) used to gather together two men from those killed in Uhud in one piece of cloth, then he would say, "Which one of them knows Qur'aan more?" If one of them was pointed out to him, he would lower him into the grave first and say, "I am a witness over them on the Day of Judgement." He would then order for their burial in their blood and they were not washed nor were they prayed over. [6]
Steps and Causes that Aid in the Memorisation of Qur'aan
4 – Seeking Forgiveness
A person forgets all that he has memorised due to his sins and for that reason he should increase in istighfaar (seeking forgiveness). Ibn Mas'ood (radhiallaahu `anhu) said, 'I reckon a man forgets knowledge that he has learnt due to a sin that he has earned.' And if a mas'ala (matter) became ambiguous for Imaam Abu Hanifah (rahimahullaah), he would say to his companions, 'This is not except due to a sin I have commited' and he would seek forgiveness and perhaps even pray, then the mas'ala would become clear to him.
5 – Cleansing of the soul from bad akhlaaq
Learning the Qur'aan is worship of the heart, prayer in secret and drawing closer to Allaah `azza wa jall, and just like the fact that the prayer is not valid except with outward tahaarah (purity) of the body, clothes and place of prayer… the inner acts of worship – of the heart – are not valid except with the purification of the heart from hypocrisy, deception, filth, malice and envy, enmity and hatred – and those are the impurities of the heart, soul and inner being. The Noble Qur'aan is like a crop/plantation, it does not grow except in good, fertile soil. As for land that is salty or deprived, then no produce will come forth and if some things do come out, then they will not grow and if they do grow, they will not produce fruit and even if they do produce fruit, it will not be of good quality. So the Qur'aan will not grow or produce fruit except in a good, pure and righteous heart. Due to this, it is incumbant upon the student of Qur'aan that he should be clean and pure from these bad characteristics and adorn himself with good, honourable and generous characteristics like truthfulness, honesty, sincerity, and in a nutshell, all that faith requires.
6 – That he intends to adorn his heart and clean his soul by his learning
It is incumbant upon the student of Qur'aan that he intends by his learning to adorn his heart, clean his soul, purify his inner being and that he intends to draw closer to Allaah, ascend to be with the Noble Angels and join the rows of the Angels, as Umm al-Mu'mineen, 'Aisha (radhiallaahu `anhaa) informed us of that when she said, "The Messenger of Allaah (sallallaahu `alayhi wa sallam) said, "Verily the one who recites the Qur'an beautifully, smoothly, and precisely, he will be in the company of the noble and obedient angels." And we all know that the Angels descended to listen to Usaid ibn Hudhayr [7]
7 – Dedicating a specific time for Hifdh
From the things that will aid you in the memorisation of Qur'aan is that you dedicate a specific time towards hifdh and you inform your brothers/sisters that you will be busy during this time so that no-one can disturb you from your hifdh.
_________________________________________
References:
[1] Reported by Muslim [2699]
[2] Narrated by al-Haakim, al-Albani declared it saheeh in 'al-silsilah al-saheeha [660]
[3] Nuzhatul-Fudhalaa [1/248]
[4] Nuzhatul-Fudhalaa [1/258]
[5] Al-Targheeb wa al-Tarheeb [2/355] – Al-Mundhari said, 'al-Haakim said 'its chain is saheeh'
[6] Reported by al-Bukhari
[7] Samaat Taalib Halaqat al-Qur'aan – Ramadan Muhammad Hasan al-Samdeesi [pg. 23 - 25]